Vision Performance Center of Columbus
Our Vision Performance Center offers an innovative therapeutic approach unique to Central Ohio through the combination of three focused therapies:
Optometric Vision Therapy
Occupational Therapy
Sensory Processing Therapy
Therapy is structured as a performance enhancement program focusing on children and adults of any age or developmental stage. To increase functional vision skills and functional performance, individuals are evaluated and participate in therapy sessions cooperatively customized and led by our in-house team of Dr. Steven J. Curtis, developmental optometrist and Shelley L. Ullom, licensed and registered occupational therapist. The Vision Performance Center of Columbus provides this unique approach focusing on the integration of vision, sensory processing, and motor skills, providing patients a way to learn how to effectively utilize their visual and sensorimotor skills for everyday activities.
Therapeutic benefits may include improved:
Reading
Writing
Eye-Hand Coordination
Gross / Fine Motor coordination
Balance
Organization / Attention
---
Three Step Process
Your eyes SEE;
Your brain PROCESSES what you see;
Your body REACTS to what has visually been processed.

20/20 vision is not enough!
Children with deficiencies in vision skills, processing skills, and motor skills will stuggle to learn even with adequate instructions
---
Developmental Sensorimotor Skills

Motor skills, including fine motor, gross motor, and coordination, rely heavily on vision and other sensory stimulation. These skills allow one to ride a bike, catch a ball, and write with a pencil. To achieve good motor skill development, an individual must have a good awareness of his/her own body and the space around them. During therapy, we assess and help patients re-visit and achieve milestones that may not be fully integrated (e.g. primitive reflex integration, laterality, left/right awareness, crossing midline) — giving them the foundation they need to achieve age-appropriate skill development for desired skills.
---
Functional Vision Skills

Studies indicate that 30 to 60% of children with learning problems have vision problems. Most of these children have passed the standard vision screening at school or at the pediatrician's office, which tests only a child's acuity. Often it is the child's functional vision skills that are the actual roadblocks to his/her ability to learn. Vision Therapy is the science of applying proven methods and and techniques that correct or enhance vision skills or other vision deficits when corrective lenses or surgery is not indicated. Vision therapy can be successful at any developmental age for children or adults.
---
Sensory Processing Skills

Sensory processing skills include the ability to receive information from our visual, auditory, and motor systems, in turn, interpret and utilize the information appropriately. When our systems are processing and communicating effectively, our bodies can achieve a calm, balanced state to efficiently attend to activities. Examples of efficient sensory processing skills are attention, organizing/sequencing, problem solving, and execution. Sensory integration is a therapeutic approach used in conjunction with functional skill development to help children process and adapt to stimuli from their environment.
Please visit Vision Therapy for more information
---
Autism and Vision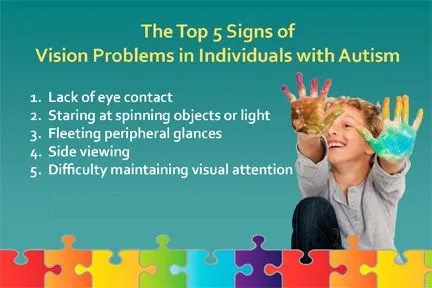 A Sensory Integrative Approach to Children's Developmental and Academic Success
The video below is an educational presentation given to educators and therapists by Dr. Curtis, Shelley, and Mary Kay at the 2014 OCALI convention.